Anthology Release Announced
LOS ANGELES – Guitarist Steve Howe played an integral role in shaping the sound of Yes and Asia, two of the world's most beloved and successful progressive rock bands. The gifted guitarist has also enjoyed a long and prolific career as a solo artist with more than a dozen studio albums to his credit.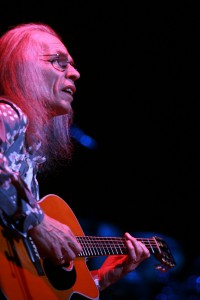 Howe has handpicked 33 tracks from his vast and varied discography for ANTHOLOGY, a new retrospective drawing primarily from the studio albums he recorded between 1975 and 2011. The collection will be available as a two-CD set on March 10 for a suggested list price of $24.98. The compilation will also be available digitally.
On April 1, Howe will launch his "Anthology Tour," which will feature performances of many of the tracks heard on this new collection. A dozen shows in the U.K. have already been confirmed (see dates below) and additional performances are due to be announced soon.
Throughout his career as a solo artist, Howe has demonstrated time and again his vast stylistic range, much like one of his guitar inspirations, Chet Atkins. ANTHOLOGY maps his musical journey across 36 years, 16 albums, and countless genres. The collection provides  an  enlightening  showcase  for  Howe's  six-string  prowess  on  songs  like "Pennants," "The Collector," "Maiden Voyage" (one of many featuring his son Dylan on drums), "Curls & Swirls," and "King's Ransom" from his 2011 album Time. The collection also includes covers of two Bob Dylan songs ("Just Like A Woman" and "Buckets Of Rain") from Howe's 1999 album Portraits of Bob Dylan. Also featured are several cuts from  Motif,  a  compilation  from  2008  featuring  new  tunes,  like  "Devon  Blue"  & re-recording of some of Howe's classic work, like "Diary of Of A Man Who Vanished," a song that first appeared on The Steve Howe Album (1979).
In addition to selections from his studio albums, ANTHOLOGY also includes tracks from a pair of compilation albums. The first is "Sharp On Attack" from 1988's  Guitar Speak, which featured various guitarists. The other is the flamenco-flavored track "Mood For A Day," one of Howe's signature songs with Yes. The version included here is taken from the 1993 album,  Symphonic Music of Yes, which features Howe and the English Chamber Orchestra.
Anthology
Disc One

So Bad
Lost Symphony
Pleasure Stole The Night
Pennants
Look Over Your Shoulder
Surface Tension
Sensitive Chaos
Running The Human Race
Desire Comes First
Luck Of The Draw
Maiden Voyage
Walk Don't Run
Momenta
The Collector
Just Like A Woman
Buckets of Rain

Disc Two

Distant Seas
Curls & Swirls
Meridan Strings
Simplication
Rising Sun
Westwinds
Ultra Definition
Ebb And Flow
Dorothy
Sketches In The Sun
Diary Of A Man Who Vanished
Devon Blue
King's Ransom
Bachians Brasileiras No. 5 (Aria)
Beginnings
Mood For A Day" – with The English Chamber Orchestra
Sharp On Attack